There are now millions of Esports enthusiasts and participants all around the world. With a rising population and a tough competitive environment, Asia has emerged as an Esports powerhouse in recent years. The popularity of Esports in Asia has had far-reaching effects on the sports betting market and the iGaming sector as a whole. In this article, Uplatform's

Maria Bashkevich

looks at the impact the emergence of Esports has had on the traditional Asian sports betting market.
The Explosive Growth of Esports: A Look at Its Soaring Popularity
Esports has come a long way since it started and has now become a thriving industry. Investors from all around the world are now interested and ready to invest in this. Over the past decade, the iGaming market has grown exponentially and is now worth billions of dollars. According to Emergen Research, it is estimated that the Esports industry will reach a market value of $5.1 billion by the year 2028.
Audience Growth and Diversity in Esports
Esports have over 474 million global audiences and are expected to exceed 577 million by 2024. Millions of players and viewers have flocked to popular online games like PUBG, Apex Legends, Call of Duty Mobile, and many others in recent years. The iGaming in Asia as a whole has benefited from this. While Esports was first popular among young people, it has since attracted a wider demographic of fans. The well-known Esports games include Dota 2, League of Legends, and Counter-Strike: Global Offensive, and the number of active League of Legends bettors has climbed dramatically over the past year.
The Rise of Esports Betting in Asia: A Cultural Revolution and Multibillion-Dollar Industry
With millions of viewers coming in to watch tournaments and events, Esports has emerged as a dominant force in Asia's iGaming business. Asian markets account for over 50 percent of total Esports betting revenue, leading operators to seek more accessible ways for bettors to access and place bets on their preferred competitions. People between the ages of 18 and 25 make up 78% of Esports bettors in the region, and they are the future of the industry. While 64% of bettors wager exclusively on Esports, 24% of Esports bettors also occasionally wager on traditional sports. Millions of fans engage and bet on events in China and South Korea, making them two of the biggest Esports marketplaces in the world.
Southeast Asia's Esports Boom
Large-scale development firms are increasingly present in the Southeast Asian market. With about 310 million players, Southeast Asia is the fastest-growing iGaming region on the globe. This meteoric rise can be largely attributed to the rising popularity of Esports and the advent of 5G network infrastructure. About 82% of the whole iGaming population in Southeast Asia, or 250 million players, play on mobile devices. Additionally, $4.4 billion was generated in sales from Southeast Asian Esports in 2019, an increase of 16% year over year. In 2015, mobile devices and services generated $3.1 billion, or 71% of total revenue. The market is expected to reach 476 million users and generate $8.3 billion in sales by 2023.
There are numerous Esports events held throughout Asia every year. Uplatform recognizes the growing popularity of Esports and provides betting software conducive to establishing and growing a successful business. There are numerous potential outcomes, including the ones below.
Uplatform provides betting options for hundreds of games, including Call of Duty, Valorant, Warcraft III, League of Legends, PlayerUnknown's Battlegrounds, and Rocket League.
Players can place wagers on a wide range of Esports events, including the LPL Summer 2023 and Valorant Champions Tour Pacific, football, hockey, cricket, and golf, as well as wagers on the performance of a single player and more.
Bets can be placed in real-time on more than 60 different games.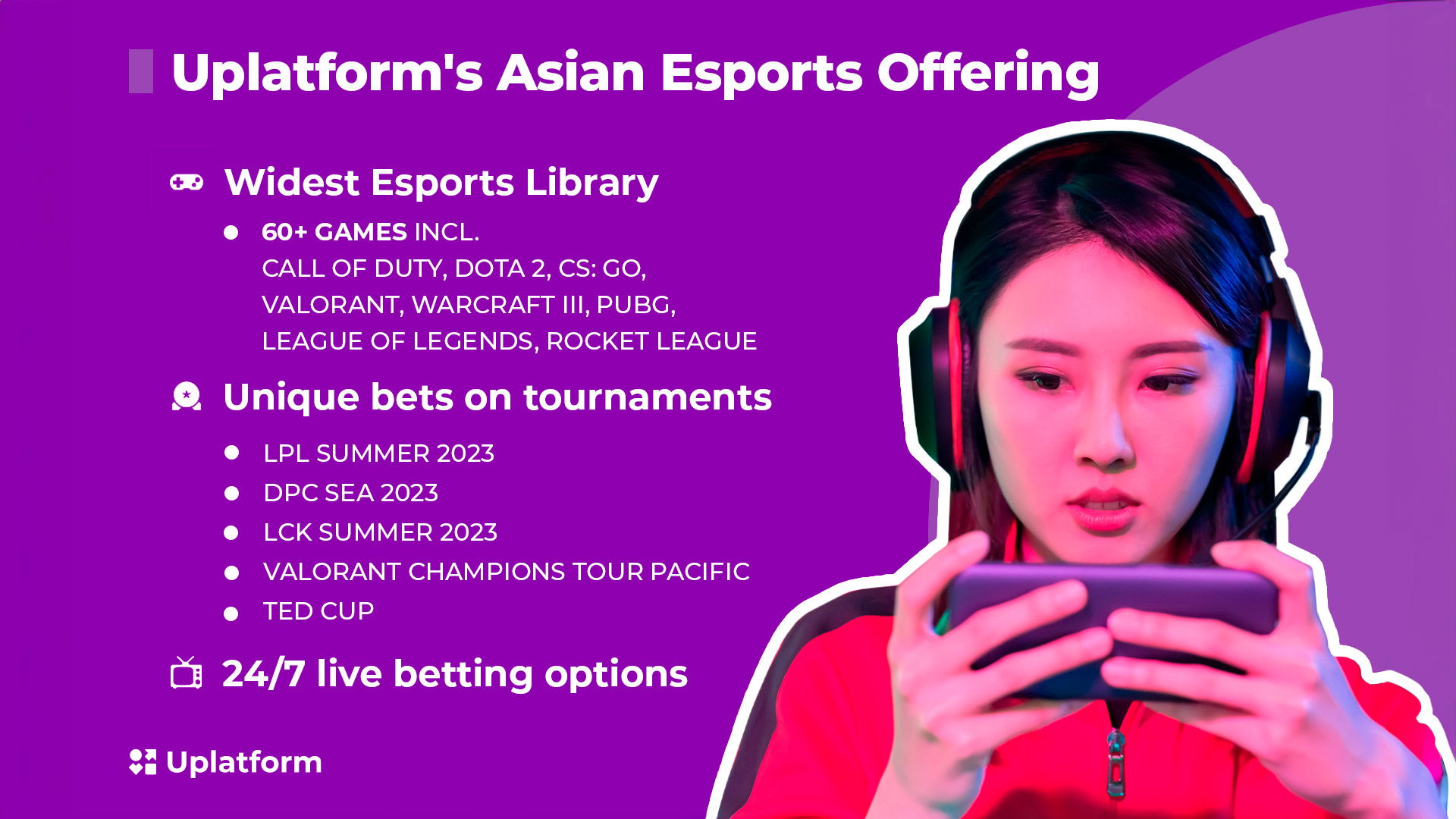 How Esports Affect the Sports Betting Industry in Asia
Asia has joined the rest of the world in the Esports craze. Esports have flourished in this part of the world, with a proliferation of competitions, leagues, and teams. Because of the potential, problems, and shifts that Esports has introduced to the Asian sports betting market, it has had a tremendous impact on the business. Here are a few impacts of Esports:
Diversification of Betting Options
The rise of Esports in Asia as a spectator sport has given bookmakers a new way to expand their product lines. There is a sizable and devoted audience for Esports competitions like Dota 2, League of Legends, and Counter-Strike: Global Offensive. Because of this, bookmakers have begun offering wagers on Esports events and competitions, giving punters a wider variety of wagering possibilities.
Uplatform, having noticed the Esports trend and how it has become a necessary component of websites and mobile apps, has developed a full-featured sportsbook with extensive features, multi-device support, adaptability to different markets, in-depth event coverage, and strategic localization possibilities. Uplatform provides 300+ betting markets, 60+ Esports and games, and 9500 pre-match and live events, including DOTA 2, Call of Duty, CS: GO, card games such as Pokemon and Hearthstone, and even Angry Birds.
New Demographics of Bettors
Esports has brought a new demographic of bettors to the sports betting industry in Asia. Younger generations, who may not have been interested in traditional sports betting, are drawn to Esports Asia due to its digital nature and competitive gameplay. The sports betting industry has benefited from the emergence of a new demographic of younger clients. Seventy-five to eighty percent of all Esports bettors are under the age of thirty-five at the present time, according to Uplatform. It is estimated that between 95% and 98% of Esports bettors are men. By 2024, however, experts predict that women will make up about 15% of all bettors in the Esports industry.
Technological Advancements
Esports has driven technological advancements within the sports betting industry in Asia. The demand for live streaming of Esports events and real-time data has led to the development of innovative technologies and platforms. This includes dedicated Esports betting websites, mobile betting apps, and interactive live-streaming services that offer immersive betting experiences for enthusiasts. These advancements have made Esports betting more accessible, convenient, and engaging for Asian bettors.
Collaborations and Sponsorships
The growing prominence of Esports has attracted the attention of major brands and sponsors in Asia. Sports betting operators have recognized the potential for collaborations and sponsorships with Esports teams, leagues, and tournaments. This has resulted in increased investment and partnerships between sports betting operators and Esports organizations, further fueling the growth of both industries in Asia.
Shifting Betting Preferences and Regulatory Considerations
Esports' growing popularity in Asia has had a significant impact on the sports betting vertical. Asian bettors' preferences are slowly shifting away from casino games to virtual battles. As a result, sports betting operators have modified their strategies and allocated resources to meet changing user demands, ensuring they remain competitive in the evolving market.
The rise of Esports betting has also prompted regulatory issues. Governments and regulatory bodies have had to navigate unique aspects of Esports, such as player age requirements, match-fixing risks, and the incorporation of virtual currencies. Therefore, Balancing consumer protection, responsible betting practices, and fair play has become a key focus in developing Asia's regulatory framework for Esports betting.
Conclusion
As the popularity of Esports continues to rise, there has been a growing interest in making bets on these events. The rapid growth of Esports in Asia, combined with its inclusion in the sports betting market, bodes well for both markets and contributes to the general expansion of sports betting. Fortunately, Uplatform is here to meet this need, providing access to over 300 betting markets, 60+ Esports games, and 9500 pre-match and live events. With Uplatform's extensive range of services, operators can effortlessly reach and engage a wider audience.