The U.S. commercial gaming industry saw a new record in 2021 as the highest-grossing year ever, reaching $53 billion in revenue, according to the American Gaming Association's (AGA) Commercial Gaming Revenue Tracker. The total breaks 2019's previous industry record of $43.65 billion by more than 21%.
According to data released Tuesday by AGA, the fourth quarter marked an all-time quarterly revenue record of $14.31 billion, surpassing the previous high-water mark of $13.93 billion set in Q3 2021. In early December, 2021 had already passed 2019 as the highest-grossing commercial gaming revenue year of all time in the US, even without all of November numbers in and nothing from December, and AGA expected final numbers around $50B.
"These results are nothing short of remarkable," said AGA President and CEO Bill Miller. "The success of 2021 reflects our commitment to health and safety and how Americans have welcomed gaming's expansion across the country. Today's industry is effectively meeting customers how and where they want to engage—whether at a casino or through mobile gaming."
During the annual State of the Industry webinar presentation and a press call Tuesday, Miller highlighted that 2021 saw the consolidation of an omnichannel approach and strategy from gambling operators, where the mentality has changed and no longer sees a limit tied to land-based, physical features. The driving factor behind this is related to "be where your customer is," and that means driving synergies between offline and online channels. When asked by Yogonet about the increasing trend of metaverse offerings in the gaming industry, he said it is still an open question as more regulations are still to be discussed, and preferred not to further comment on esports betting possibilities in this landscape.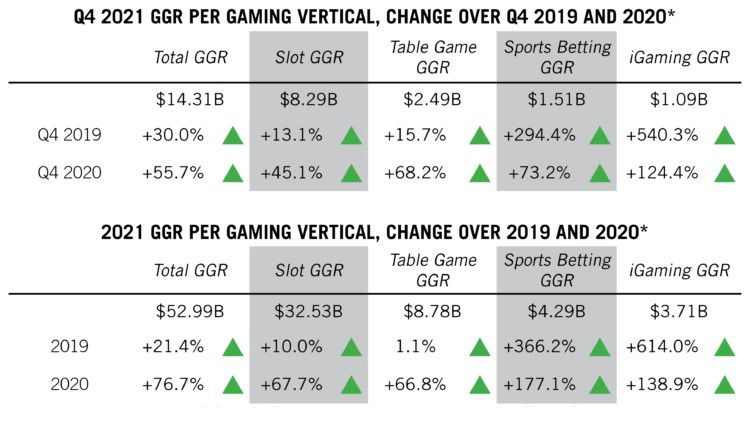 Of the 34 operational commercial gaming jurisdictions in 2021—including four new markets—23 set individual records for full-year commercial gaming revenue. On a national level, every commercial gaming vertical has set new annual revenue records.
Traditional brick-and-mortar gaming led the industry's recovery, with 2021 combined slot and table gaming revenue totaling $44.94 billion, a 6.6% increase over 2019's previous record.
Sports betting's growth accelerated in 2021, generating $57.22 billion in handle and $4.29 billion in revenue—jumps of 165% and 177% over 2020 respectively. The sector's all-time high was powered by strong demand in established markets like Nevada, New Jersey and Pennsylvania and further boosted by the launch of seven new commercial sports betting markets in Arizona, Connecticut, Louisiana, Maryland, South Dakota, Virginia and Wyoming.
Two new iGaming markets, Connecticut and Michigan, also opened in 2021, helping the sector to a record $3.71 billion in revenue. Combined sports betting and iGaming revenue for the year totaled $8 billion, up 158% from 2020 and accounting for a record 15.1% of annual industry gaming revenue.
"Despite our record-setting year, gaming's total recovery is still reliant on the full return of travel and large events, which requires a safe health environment and open economy," Miller continued. "I'm optimistic that we will see continued growth throughout 2022."
David Forman, AGA's Senior Director of Research, said that Iowa, Massachusetts, Missouri, New York are the four jurisdictions currently discussing online gaming legalization and possibly joining the picture this year. He also noted that while tribal gaming numbers are not available yet, they are estimated to take 40% of the market share, in line with previous years.
Furthermore, in response to a question from the Associated Press, Miller said that Florida sports betting compact is "going to be sorted out" in the courts, while California's sports betting market will be decided by voters on the ballots, and he also added Texas as a third key market to watch, to be decided by the Legislature and probably ballots this year.
AGA's CEO also pointed out skill-based machines are one of the biggest threats for the legal industry, and sees lack of will in certain sectors. In addition, he said that advertising must eventually focus on bringing people from illegal operations to the regulated markets. In terms of taxation, he noted that it should be determined so that the legal products are not less competitive than the illegal market, which would eventually lead to a "tragedy" for the industry.
As for cashless gambling, Miller underlined "great progress" over the past two years in that area, as 11 states now allow digital transactions. He said the industry has broken all obstacles for this technology and "we will continue to see growth" there.