Gaming developer and manager Red Rock Resorts held on Friday a private ceremonial groundbreaking for the $750 million Durango Casino & Resort in Las Vegas. The celebration at the site was attended by employees and executives including company Chairman and CEO Frank Fertitta III, Vice Chairman Lorenzo Fertitta, and new company President Scott Kreeger.
The ceremony marked the start of work on the new resort, in the southwest of the city. The new venue will feature a 200-room hotel tower and an 83,000-square-foot casino, and is slated to open in late 2023.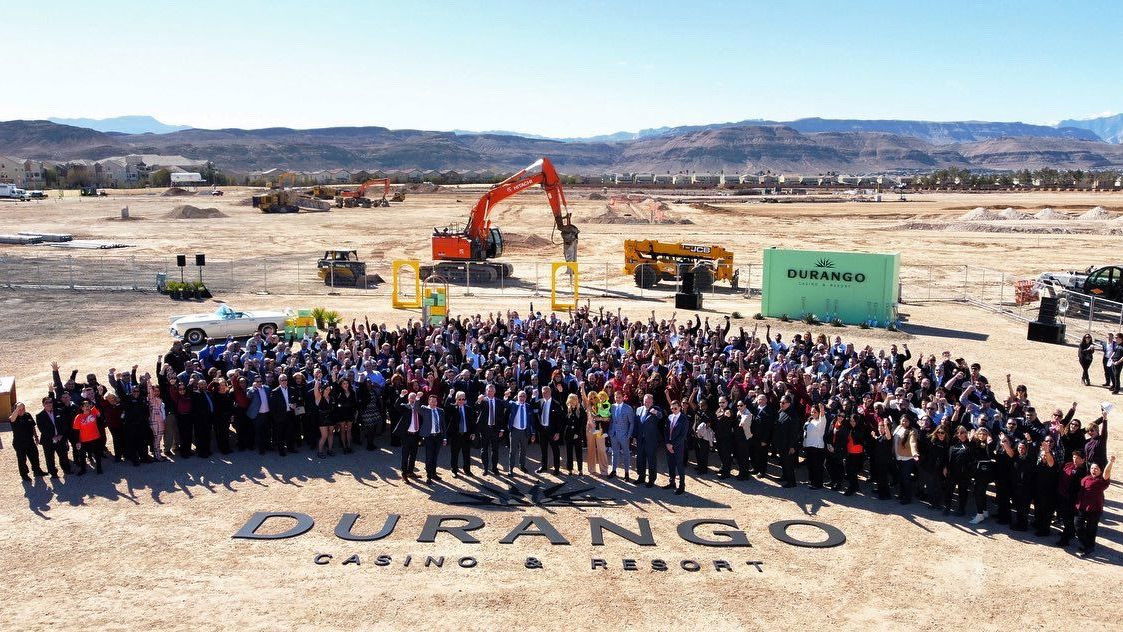 Plans made available by the company call for a 216-foot-tall hotel, a casino, pool with an event lawn, four signature restaurants and bars, outlets, a race and sports betting area, 20,000 square feet of meeting and convention space, a nine-tenant food hall, a parking structure and 40 electric vehicle charging stations, plus ample bicycle parking
Red Rock Resorts subsidiary Station Casinos has owned the undeveloped 71-acre property since 2000. A second phase would add a second tower, more hotel rooms, theater space, and enlarged casino, reports Associated Press.
Hundreds of employees and executives were present at the site near the 215 Beltway at Durango Drive to witness the launch of the new resort. Richardson Builders has been selected as the project's construction manager, while the architect of record is Vegas-based Friedmutter Group.
Along with the groundbreaking, Red Rock Resorts also provided a first look at the latest renderings of the resort's interior. The new resort is set to use several design elements from the company's signature Red Rock Resort in Summerlin, Kreeger said. He expects the demographic to be similar to that venue.
"We bent a lot of rules in what was traditionally viewed as a gaming property and I know that was met with great success," Kreeger said in an interview Thursday, according to Las Vegas Review-Journal. "So I think the types of things you saw with Red Rock you're going to see at the next level with Durango."
Officials expressed confidence in the success of Durango given the experience amassed for decades now in the Southern Nevada resort industry. "When we build a property we take what we've learned along the journey and create something new that's relevant for the time and the customer preference and stretch the envelope of creativity," Kreeger said.
Red Rock currently has nine large casino-hotels and 10 bar, restaurant and sports betting properties in its portfolio. The business expects that growth in the Las Vegas Valley will contribute to its overall success, as many of its assets are in what the company describes as "economic development zones" around the area.
Kreeger further discussed future plans for the venue. While Durango won't launch with movie theaters and bowling lanes -two Station Casinos staples- those will be introduced, along with an entertainment venue, in later phases.
"I just think we're really tuned in to the preferences and amenities that our customers are looking for, coupled with our growth opportunities and connectivity with our customers," described the executive, who was named President of Red Rock on February 28.
Prior to his new appointment, Kreeger had been serving the company in the role of Senior Vice President of Development since rejoining in September 2021 from Galaxy Entertainment Group in Macau, where he was Director of Operations Development, New Resorts from January 2018.