In an exclusive interview with Yogonet, Eduardo Aching, Konami's Vice President, International Gaming Operations, reflects on the company's performance during 2021, and plans to further secure a presence in its active markets, including Latin America. Aching also discusses Konami's SYNKROS casino management system and how data is becoming an essential part of successfully managing a gambling enterprise.
The executive also explains the keys behind the ongoing success of the DIMENSION cabinet series, plus new developments within the vertical. The VP also provides an update on some of the company's expected products for the year.
What do you see as the main expectations and new challenges for 2022, both for the gaming industry and Konami in particular? What do you think will be the main issues driving the agenda of the industry this year, and how would you assess Konami's last year?
In recent months, we've seen steady improvement for all countries we serve. And working in anticipation of demand growth, Konami has transitioned into direct sales across Argentina, Uruguay, and Paraguay, in order to be a more competitive supplier partner in those markets. Following years of positive momentum in these markets, our previous distributor Atlantic Venture allowed Konami to absorb its personnel in the region and we are currently moving ahead with an exceptionally strong team.
Headed into 2022, Konami is excited and fully equipped to deliver the latest top-performing DIMENSION products to operators across Latin America. From a wide mix of Triple Sparkle games on DIMENSION 49, to the latest stacked-screen content on DIMENSION 27, we are looking forward to supporting our casino customers with the latest top entertainment and technology.
Konami's SYNKROS casino management system has been instrumental in allowing Resorts World Las Vegas to launch its state-of-the-art cashless gaming experience. What role does the CMS play within the casino and what has the reception been like so far? As cashless wagering is expected to gain momentum this year, what new opportunities does cashless gaming unlock for operators, and how do both casinos and customers benefit from it?
A casino management system powers the core casino resort technology, including player tracking, player communications, player rewards, slot management, table games management, cage & credit, reporting, analytics, and more. Konami's SYNKROS brings all these functions together in one, robust ecosystem. This is one of the reasons SYNKROS continues to see record growth in more casinos.
SYNKROS also supports a large mix of cashless solutions. Konami's primary cashless technology is called Money Klip. Money Klip is seamlessly integrated into SYNKROS, and it works for nearly any gaming machine manufacturer type. Money Klip was first introduced to market 7 years ago, and is backed by proven performance in the field. At the same time, Konami continually innovates its cashless technology to serve consumer preferences, with enhancements like cashless wagering & TITO support at table games.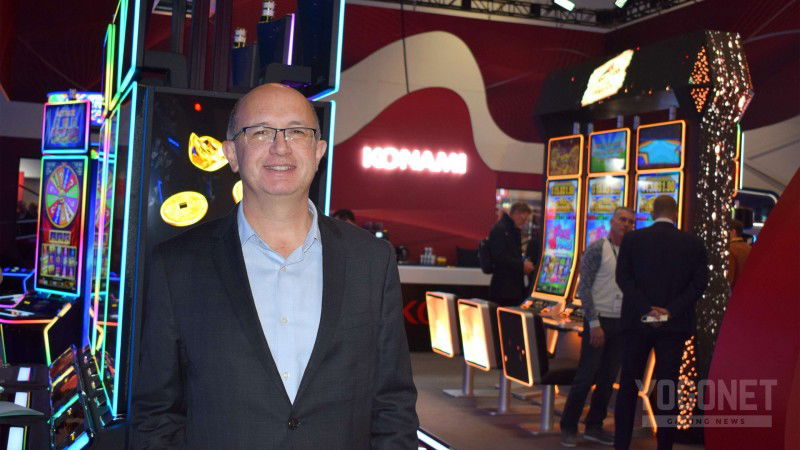 Additionally, SYNKROS offers a robust data ecosystem for operators to utilize, with real-time information casinos can then leverage. Do you expect analytics to play an increasing role this year? Are operators actively seeking these solutions, and how may they benefit from them?

The biggest change in recent years has been the increasing depth and breadth of information available to operators. This includes data on spend, preferences, traffic flow, and more, which can be leveraged in real-time to deliver targeted rewards.
Robust analytics are essential to casino operations and maintaining enterprise health. Operators are looking for tools and technology that allow them to better access and understand their information, with strong accuracy and agile integrations.
As systems gather more data across various sources throughout the venue, the ability to review and act on this data becomes critical to maintaining a competitive edge. The need for non-gaming data, in particular, has become increasingly apparent.
Now, more than ever, analytics software is in high demand by operators. They want the ability to know what is happening enterprise-wide and not just on the gaming floors. As other areas of revenue generation are integrated, analytics technology has to evolve accordingly. SYNKROS does just that.
Konami Gaming was awarded first place for Best Slot Product in the 20th GGB Gaming & Technology Awards in October. The DIMENSION 49J video slot cabinet was selected as exemplifying a step forward in the technology. What are the keys behind this recognition and the ongoing success of Konami's current line of cabinets?
One big differentiator for DIMENSION is the popularity of the game series. Our customers have seen a high degree of success with new DIMENSION games like Ocean Spin, All Aboard, Fortune Mint, and more. These series are among the industry's highest-performing slots this year. Because they are so strong, I encourage all of our Konami customers to consider these games, and please talk to us about a plan, if you have not already. Don't miss out on the good results for your casino floor.
Another big differentiator is the hardware performance and reliability, which DIMENSION has proven in the field for nearly two years. The machine operates extraordinarily well, and the player experience both attracts and retains. This is true for DIMENSION 49J, as well as stacked screen DIMENSION 27 and flat-screen DIMENSION 49, which ranked the industry's #1 top indexing portrait cabinet for four straight months.
Overall, Konami is very happy with the recognition DIMENSION has received, and we are even happier to offer this award-winning entertainment to our casino customers around the world.
As land-based casinos started recovering from the pandemic last year, how has demand for cabinets and casino products advanced and what new innovations should we expect going forward? Moreover, the company debuted four additional DIMENSION series slots cabinets at G2E last October. What are their main features?
Konami has expanded DIMENSION to a total of five DIMENSION form factors. All share the proven base components as the original, award-winning DIMENSION 49J—including sleek design, dual spin buttons, dual cup holders, sloped footrest, sheen finish, and smartphone chargers.
DIMENSION 27 and DIMENSION 49 are the two most important releases for Konami's customers in Latin America and Europe. DIMENSION 27 is our latest stacked-screen core cabinet. It is a solid investment, with a high degree of flexibility and many game options—from SeleXion multi-game compatible classics like China Shores and Quick Strike, to entirely new games like Mystical Pearl and Patrick O'Potts of Gold.
DIMENSION 49 is one of the industry's top performing portrait cabinets of the year, and we're making it available to international operators with proven popular series like Ocean Spin, All Aboard, and the Triple Sparkle series. So our customers abroad can take advantage of these themes on their floor.
Konami's Lauren Bates was honored in September in the Global Gaming Women's Awards for her commitment to the development and advancement of women in the industry. What does this recognition mean for the company and women in gaming? What place does Konami give to inclusion within its corporate goals?
Our organization is happy to celebrate the series of industry awards that Vice President of West Games Sales Lauren Bates has received. The work she does with Global Gaming Women helps develop current and future gaming leaders in regulated markets around the world.
In September, Konami unveiled the world's first BattleBots slot machine at Caesars Entertainment Studios. At the time, it was announced a general release was scheduled for this year. Could you provide us an update on the product and what has the reception been like so far? What should we expect of the slot machine once launched?
Konami's BattleBots slots are in development, and on target for initial launch during 2022. Based on the popular robot fighting competition and reality TV show broadcast in over 150 countries, BattleBots slots allow players to enjoy memorable scenes and machines from the show, with a cash chance.