A week before its launch, gaming companies and operators around the world prepare and await anxiously to meet at ICE London. Set to take place on February 7-9 at ExCel London, the renowned event is expected to hold its biggest edition yet, occupying a record 51,466 sqm of net space and 41 halls.
Among those attending is BMM Testlabs. Ahead of the expo, Yogonet held an exclusive interview with Marzia Turrini, Executive Vice President for the EURSAM region, who eagerly shared the company's plans for the event. Additionally, she explained that BMM will be joined by the BMM Innovation Group (BIG), which will mark the first time BIG Cyber and RG24seven exhibit at ICE.
What will BMM's presence at the event be like, and what will the business focus on at the expo?
BMM Testlabs is excited to be participating at ICE London again this year. We are bringing our team of experts from all over the world to provide professional advice throughout the event. Our CEO, Martin Storm, will be in attendance, as well as leadership from all regions. We are also very happy to present the BMM Innovation Group (BIG) at ICE London, where BIG Cyber and RG24seven will attend for the first time.
BMM is anticipating a year of growth for the gaming industry. We expect to build on the amazing growth of the iGaming segment in Europe, which is now bridging into the United States, where we assist customers in taking products to emerge online and sports betting markets.
BMM's focus at ICE London is to ensure that product companies within the gaming industry continue to have a strong awareness of the regulatory guidelines in every gaming jurisdiction. Compliance and regulation are essential in regulated markets, so it is crucial that everyone has exposure to and a deep understanding of all regulatory trends that align with their commercial strategy and product development. Our team at BMM Testlabs looks forward to sharing our advice and strong understanding of industry complexities at ICE.
Given ICE London's status as one of the major global events in the industry, what are your expectations and objectives for the expo?
BMM's team of experts will be available to provide expertise and help all ICE attendees, whether they are start-ups, first-time attendees, or established large companies. Our reputation, combined with our team of experts, delivers the knowledge, experience, and tools necessary for product innovators to create compliant products for gaming markets all over the world.
More recently, BMM has seen a lot of interesting hardware and more complex math in games, particularly from the major gaming equipment manufacturers. Given BMM's recent growth, we have invested significantly in our math engineering teams around the world. In line with that, we have invested heavily in software tools that advance our math testing and certification.

BMM's stand at ICE London last year.
In addition to traditional land-based gaming, the expo is also set to emphasize new verticals and technology. Which topics and issues do you expect to drive the agenda of the event?
BMM stays ahead of the trends and has witnessed many technological advancements over the decades that we have operated within the industry. Recently, there has been a growth in the popularity of eSports and how to apply general event wagering.
This includes live sports wagering and the complexities surrounding regulations and compliance. We are also aware of the development of games and verticals that require more player interaction, offer a competitive edge, and require the element of skill.
We have also seen the continued push for the adoption of Blockchain technologies into the iGaming industry, which has been a hot topic of previous ICE VOX agendas. In 2022, BMM Testlabs granted the first compliance certification in the blockchain industry.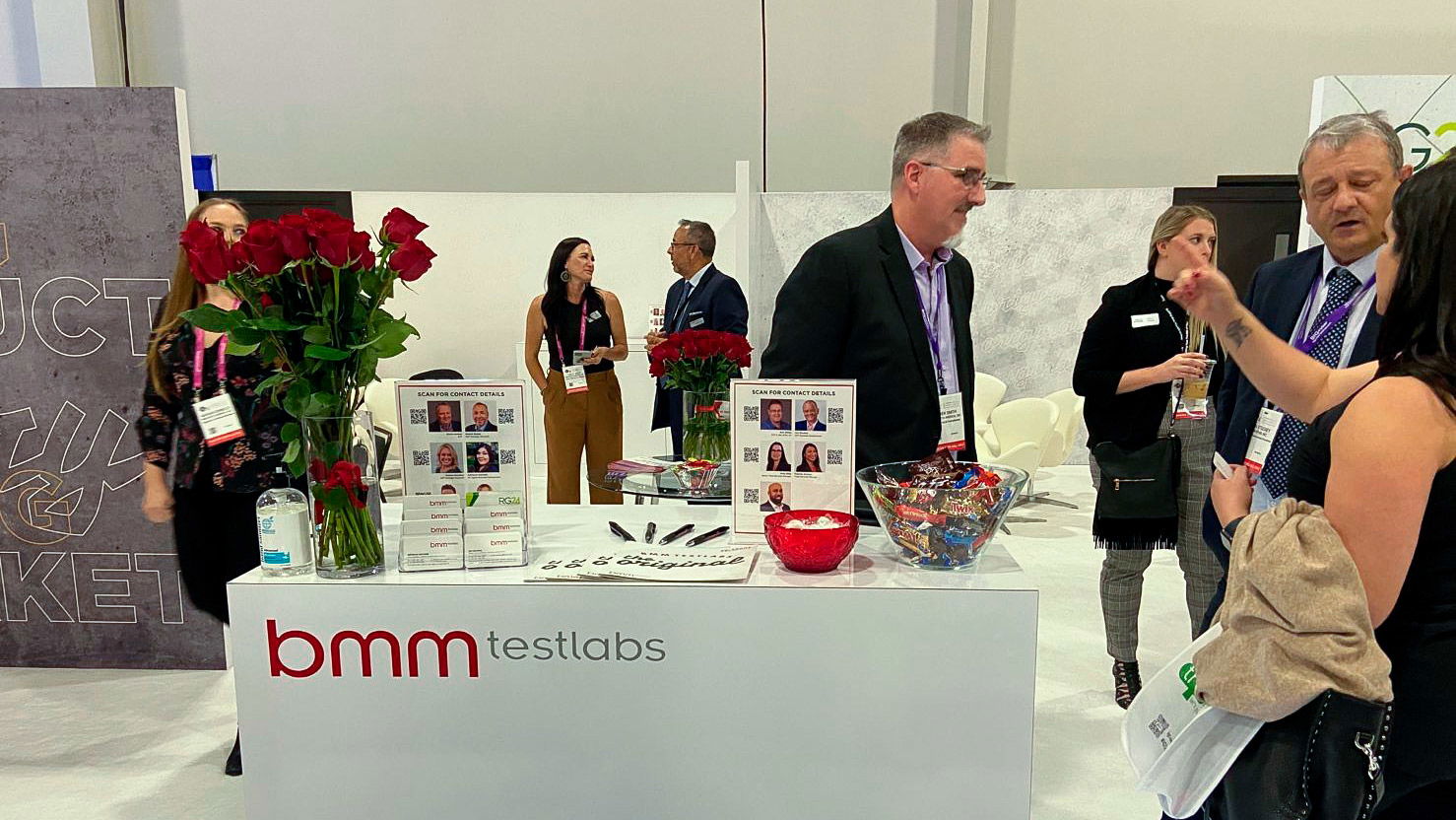 What are your customers more interested in learning about at the moment when it comes to compliance?
There was massive growth from 2018 to 2021 in the iGaming segment, which moderated somewhat in 2022, although BMM growth rates were still high. In that period, BMM has grown from the number six to the number two supplier of online test and certification services in a marketplace more fragmented for gaming lab suppliers (particularly in Europe).
Our constant and ever-evolving topics of conversation are security testing and audits. This is due to the continued pressure and focus on the assurances of data protection and information security. BMM has grown significantly in this segment and responded by establishing new dedicated teams and expanding the existing teams around the world, enabling us to provide continued support to our clients.
BMM has had the pleasure of helping these suppliers navigate the myriad of new regulatory frameworks to successfully launch their products, and we look forward to continuing to educate upon this interest at ICE London.
Will the BMM Innovation Group (BIG) also be present at the event? What will BIG Cyber and RG24seven focus on at ICE?
Yes, both BIG Cyber and RG24seven will be present at ICE London for the first time at BMM's stand N3-520. The BMM Innovation Group (BIG), a sister company to BMM, was formed to address opportunities outside of gaming testing, inspection, certification, and our traditional business segment at BMM.
BIG Cyber is dedicated to 24/7/365 cybersecurity defense for the global gaming industry by utilizing the most advanced and secure technology available. Amit Sharma, CEO of the BMM Innovation Group, will be present at ICE to discuss BIG Cyber's services, which include a 24/7 monitoring SOC and SIEM platform, fully managed cyber awareness training, security testing, and more.
RG24seven is the industry's leading virtual and interactive training platform for casino and gaming company employees across the world. Delivering responsible, effective, and FREE virtual training, RG24seven's cutting-edge training platform enables users to learn anytime, anywhere. Wendy Anderson, the CEO, will be present at ICE to provide more information and demonstrations of RG24seven's training.
What other industry events does BMM Testlabs plan to attend this year?
Our team will attend all major events in 2023 across all jurisdictions where BMM operates. This includes global events from Australasian Gaming Expo in Australia, G2E Asia in Singapore, G2E Las Vegas in the United States, and more.
BMM has 15 global locations and serves over 470 global gaming jurisdictions. Our world headquarters are in Las Vegas (United States), with testlabs and offices in Moncton (Canada), Lima (Peru), Buenos Aires (Argentina), Barcelona (Spain), Bologna (Italy), Ljubljana (Slovenia), Krakow (Poland), Bucharest (Romania), Midrand (South Africa), Melbourne and Sydney (Australia), India, Macau (SAR, China), and Singapore.