July's positive results surpassed May's prior record aided by the return of summer leisure travel, a favorable calendar, and casinos operating at full capacity. It also marked the fifth consecutive month of double-digit gaming revenue growth over 2019. Brick-and-mortar gaming generated an all-time monthly high of $4.29B in revenue, with new single-month records in slot machine revenue and table games.
The American Gaming Association (AGA) has released its Commercial Gaming Revenue Tracker results for July last Friday, reporting state-by-state and nationwide insight into the gaming industry's financial performance for the month. July saw the commercial gaming sector extend its record-setting run with revenue from traditional casino gaming, sports betting and iGaming reaching $4.83 billion.
This figure surpasses prior record set in May as the industry's highest grossing month ever. On a year-on-year basis, revenue for July was up 29.6% compared to the same month in pre-pandemic 2019.
July's positive results were aided by the return of summer leisure travel, as well as a favorable calendar, which included five weekends and the Fourth of July holiday. Moreover, it also marked the first full month since the start of the pandemic in which casinos in all 25 commercial gaming states could operate at full capacity.
Other highlights of the month find July marking the fifth consecutive month of double-digit gaming revenue growth over 2019. In the first seven months of 2021, gaming revenue has nearly matched the $29.98 billion generated in all of 2020, at $29.60 billion.
Casino markets have seen the return of visitors throughout the month: Illinois, Iowa, Louisiana and Missouri all reported their strongest visitation numbers since the start of the pandemic. Visitors are too returning to Las Vegas -3.3 million people in July, up 11.2% from June- and Atlantic City, 13.3% up from June. Despite visitation numbers not yet back to pre-pandemic levels, the figures show a positive trend.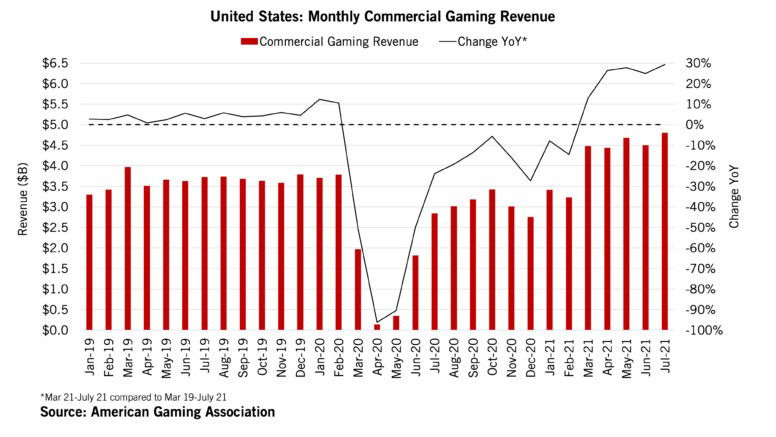 Breaking down revenue figures show that brick-and-mortar gaming generated an all-time monthly high of $4.29 billion in revenue, representing the highest share of total gaming revenue in nearly a year. Moreover, new single-month records were set in slot machine revenue ($3.02 billion) and table games ($933.6 million). Most casinos have returned to pre-pandemic revenue levels: only the Michigan market experienced a decline compared to 2019, at 2.8%.
It is also worth noting the iGaming market's extended importance, which continues to grow alongside the recovery of the traditional industry. Pennsylvania, New Jersey, Delaware, West Virginia, and Michigan reached $305.8 million in July. The figure positions iGaming revenue just 1.8% behind monthly record set in March 2021.
The sports betting market did not fare as well as the others, with Americans wagering $2.42 billion, down 33.9% from June, while up 168.8% from July 2020. This figure is contemplated as a result of July being a typically slow month in terms of the sports calendar: it represented the lowest level of monthly sports betting activity so far this year.
July was also a particularly exceptional month for the state of Nevada, which saw casino win record figures of $1.36 billion, as well as the fifth month topping $1 billion in a row. The state posted revenue for the month of July up almost 80% compared to July 2020.