New York State Senator Joseph Addabbo filed on Thursday a bill seeking to legalize online casino gaming in the Empire State. Should the proposed legislation pass and be signed into law, it would make New York the eighth state in the US to permit and regulate iGaming.
Bill S8412's main purpose is "to authorize online interactive gaming" in the state. The legislation notes that, among the seven states which have already legalized iGaming, are neighboring New Jersey, Connecticut and Pennsylvania. Last year, online casino GGR exceeded $1 billion in both New Jersey and Pennsylvania, generating about $120 million in tax revenue for each state.
According to the bill's text, New York could capitalize on iGaming as it did under the newly-launched online sports betting market: the Empire States quickly became the leading player in the nation, generating nearly $70 million in tax revenue in a single month.
"Similarly, if authorized, New York would quickly become the national leader in online casino gaming, generating hundreds of millions of dollars in tax revenue annually for the State as it continues to recover from the economic downturn caused by the COVID-19 pandemic," the legislation predicts.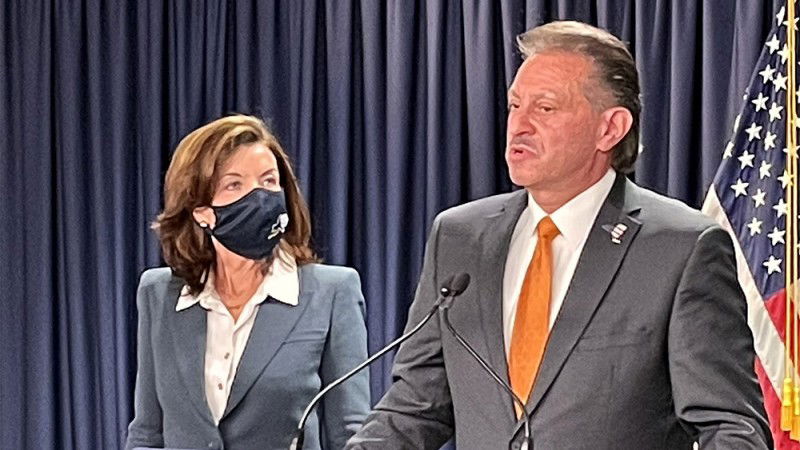 New Jersey is currently home to the largest iGaming market in the US: in 2021, platforms in the Garden State won about $1.4 billion from gamblers. However, as it did with sports betting, New York could take the first spot from its neighbor based on a series of factors, including a larger population of 19.5 million.
New York would receive "approximately $475 million annually" in state tax revenue on a 25% tax rate based upon conservative market estimates, the proposal claims. Additionally, in the first year of operation, the state would receive about $150 million in one-time license fees from casinos, operators and independent contractors seeking to conduct iGaming in New York.
Bill S8412 would allow commercial and tribal casinos in the state to offer online gaming, which could partner with up to two gaming platforms each, upon approval by the New York State Gaming Commission. Licenses would run for 10-year periods.
"With today's technology, we can put caps on accounts and on credit cards as we do with mobile sports betting to make sure somebody isn't going into the area of problematic gambling and addiction," Senator Addabbo told Yogonet in an exclusive interview last month. "If we do it methodically, we can safeguard people from doing it illegally or going to another state."
In conversation with Yogonet, Addabbo said New York could regulate iGaming "as we did with mobile sports," leading to "a large amount of revenue for educational funds" and more jobs, while always keeping "an eye on the addiction issue."
The proposed iGaming expansion comes as New York works on issuing licenses for three upcoming downstate casinos. A prohibition was placed on the licensing process until 2023, but a decision to speed up the bidding process for this year was announced in January in the state budget.
Last month, it was revealed the tax rate for the downstate casinos will be determined via a bidding process. The gambling licenses will last for a 10-year period, with renewal at the discretion of the state's Gaming Commission.
Applicants will be evaluated under a series of factors, such as maximizing revenues received by the state and localities; providing the highest number of quality jobs; and demonstrating an ability to finance, develop and operate the business, among other issues.